You can find the latest trend report for fall and winter 2015 here.
Spring is almost here so high time for our seasonly trends report!
Get ready for a relaxed 70s vibe with soft flowery fabrics, suede and mildly swirling pants. Or go the complete opposite direction with more tailored looks that embrace the waist or play with asymmetrical lines. 
There is something for everyone this spring. Here are some of the best and most wearable trends for women over 40 to embrace this season!
1. Bring on the blues
Blue is making a comeback. There was plenty of denim but blue was also present in flowing dresses, skirts and jackets. The blue trend was a very noticeable streetstyle trend during the recent fashion weeks. I would not say it replaces black (since black and white was very strong as usual) but blue will be a great alternative for black this season. It is usually a much better color to wear for most women than the harsher black. Check out this article for blues inspiration.
2. Be squared
Gingham was particularly strong but designers have been very creative in creating all kinds of other squared looks. Who knew that they look so good with flowers as well?
3. 70s vibe
The 70s were a big theme for spring. Lots of bohemian chic looks featuring flowery patterns, fringes and tassels, bell sleeves and flared trousers.
4. The fluid fit
Those who like comfort will love the fluid fit trend. Clothes are not oversized but are bigger than tailored looks. So don't be afraid to add a little slouch to your tops, pants and dresses! Be mindful of creating a good overall silhouette though.
5. Midi skirts
Not everyone's favorite trend but skirts were mostly long on the runway. Midi skirts can work really well so long as you pay attention to proportion. Often you will want a higher fitted top with this look. It also works well if you opt for an asymmetrical hemline.
6. Big bold florals
Bold prints make a statement and they are especially good for hot summer nights. I love wearing (bolder) prints on skirts. You still get the fabulous print without overwhelming you too much since you can combine it with a plain white shirt on top.
7. Belted!
Belts were used to give the more fluid clothes more structure and a waist definition. Karate and obi belts were used but also simple rope type belts.
8. Shirt dresses
Shirt dresses are both casual and chic and since many come with sleeves, will be so easy to wear!
9. All over white
Not for everyone, but I love the all-over white look. It feels so fresh and modern to me. You don't have to stick to the same color white either. Feel free to play with combinations of cream and off white and have fun layering!
10. Asymmetry and vertical lines
Asymmetry is still strong and I have included it in this lineup again since I feel it's such a flattering look for women over 40. It creates great vertical lines and adds more interest to an outfit.
11. Wide cropped pants
Another trend where creating the right balance within your outfit is of utmost importance. That often means shorter jackets and tops or combine with a long vest as shown at the top left.
12. Flats!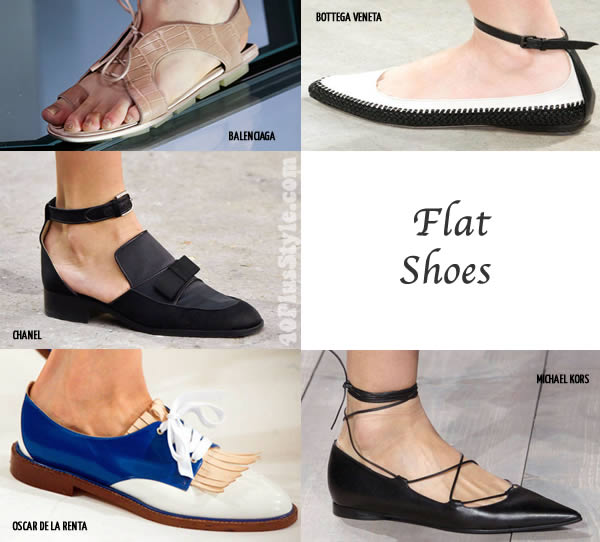 Many of you will be happy to know that flat shoes are making a comeback as many designers showed them on the runway. Other shoe trends include gladiators, solid block heels, mules, and booties continue to be strong too.