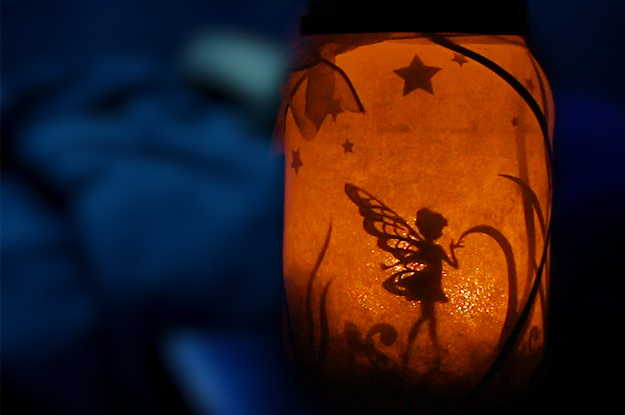 What you need:
*An empty jar. (Pickle jars are the best!)
*White acrylic paint
*Sponge or paintbrush
*Fairy silhouettes (SEE underneath)
*Exacto knife
*slicing board
*Preserved moss, bark, or tissue paper
*wood glue
*hot glue
*Stickers
*Rechargeable tea lighting fixtures
instructions:
Wash the inside of the jar, and take away labels and sticky residue from the outdoor. With a sponge or massive spherical paint brush, dab the inside with white acrylic paint to create texture. allow the paint dry for approximately an hour among coats till simplest mild may be visible even though the jar. allow the paint dry very well.
Glue a few preserved moss, bark, or tissue paper to the bottom of the jar. Paste your fairy cutouts or other paper designs onto the bottom of the jar simply touching the edges. you may create a 3D phantasm via by leaving a chunk of space between the cutouts and the perimeters of the jar. add any stickers if preferred.
Spray paint the lid of the jar, and let dry. With a hammer and nail, punch holes in the pinnacle of the lid on contrary facets for the cope with. Bend a bit of a coat hanger right into a handle, and push the ends through the lid holes. cozy by using bending the ends inward, and taping over the sharp edges.
you may upload a base to the lantern with the aid of portray any other steel lid the identical colour, or using a round wood base. Use timber glue to attach it to the jar. add skinny strips of tape criss-crossing over the back and front of the jar to mimic a lantern sample.
location a rechargeable tea light (or a few!) within the jar, and flip out the lighting fixtures.
experience you magical fairy lanterns!
Print out the fairy cutouts we used!